Yesterday I showcased Starcom: Nexus at the Boston Festival of Indie Games. This was my first time exhibiting a game at any kind of festival/convention and it was a lot of fun, exhausting and a great learning experience. Thanks to everyone who stopped by to say 'hi' and/or played the game! My voice is still recovering from talking to so many great people and next time I'll remember to bring even more water.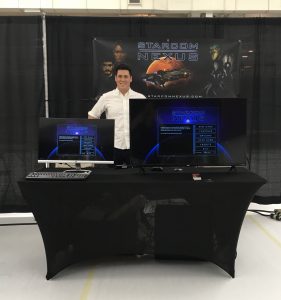 Even though the game has been in Early Access for nine months with thousands of players, watching dozens of people play through the game's opening gave me some new insights on areas for improvement of the initial experience.
Most of the last week was spent doing a combination of preparing for the festival and doing a playthrough of what will be Beta 0.16. This Beta has only relatively minor changes to Beta 0.15 but hopefully will be up this week as a closed beta branch. My goal is to promote that version to the default branch this month so I can start collecting more feedback and analytics on what will be the first default branch release of the game to have the ending in place.
Until next week! You can always reach me on Twitter, Discord or the game's Steam Forums.